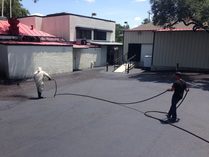 All asphalt overtime will show signs of wear and can be damaged by normal weather conditions and traffic. Even if your pavement was installed on a excellent base with quality materials, the elements can damage the surface. Asphalt in San Antonio is typically victim to damage from the sun, but rain and freezing weather are occasional factors that can damage the surface of your pavement.

By sealcoating your asphalt driveway or parking lot you can help prevent these elements from damaging your pavement. Similar to staining a wooden deck or fence to protect them from sun and rain, a seal coat is meant to be applied as a preventative measure to make your asphalt more resilient to harmful elements. By taking a proactive approach and applying to Sealcoat to your asphalt before problems arise, you can extend the life of your investment and save yourself the expense of costly asphalt repairs in the future.

Preventative maintenance only works if you take action before there is a problem so don't wait until it's too late! Contact us today at Luke's Asphalt Paving and Sealcoating to find out how we can help you protect your asphalt investment.