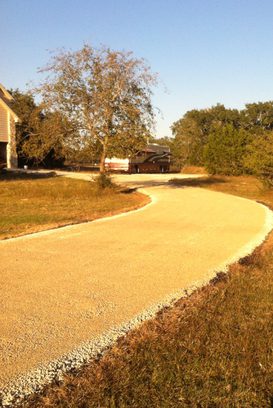 Chip Seal
is a common material used on many roadways and driveways around the country. The process of installing a chip seal drive way involves applying a coat of hot liquid asphalt to an existing pavement or base material and using a chip spreader to cover the liquid asphalt with small washed rock. You then use a pneumatic roller to compact the rock into the asphalt before it cools. Chip sealing over base material involves a layering process where two to three layers of material is applied for added stability.
Benefits of Chip Seal
:

Ease of application- Most chip seal driveways are relatively fast to install and can be driven on minutes after being covered with chip rock.


Appearance- Chip seal adds a decorative and rustic look to your roadway. Since it is a real stone surface chip seal provides a natural appearance.


Lack of maintenance- Chips seal driveways do not require periodic maintenance. Crack filling is not necessary because the flexibility of the material


Durability- Due to its elasticity chip seal is quite durable. It is not typically susceptible to damage from washouts or high traffic and can last from 15 to 20 years with limited maintenance.




Price- Chip seal is substantially less expensive then other long lasting driveway options; Concrete can cost up to four times more.


Chip Seal is a ideal treatment for repairing a deteriorating driveway and works great if you are looking for a new hard surface over a gravel roadway.If you are in the San Antonio area and considering a ChipSeal driveway feel free to contact Luke's Asphalt Paving for a free estimate.